WELCOME TO JOHN BRADLEY STUDIOS
JOHN BRADLEY AUSTRALIAN MASTER ARTIST
John Bradley is recognised as one of Australia's most published artists. He is also known as one of Australia's most versatile artists and his work includes landscapes, seascapes, early 20th century street scenes, romance of steam, trains, military, ships, Blue Mountains, nostalgia, night scenes and lighthouses.
Working in oils his techniques range from traditional realist work through to impressionistic and metaphysical painting works.
Inspired by his deep feeling for the rugged Australian landscape and seascapes, John displays his unique & recognisable style in every artwork that is produced. John is a master at using a wide range of colours and exacting detail to enhance the expressive strokes used in every painting he creates.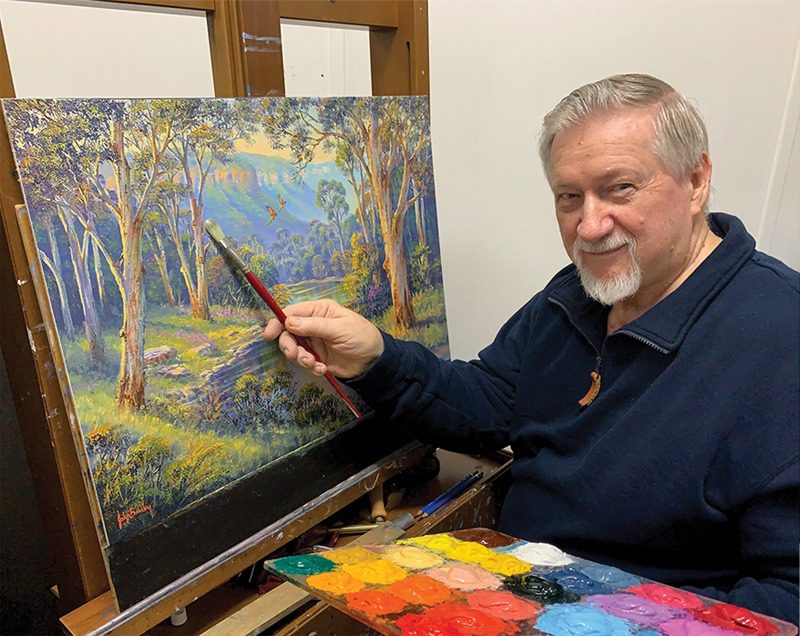 LIMITED EDITION PRINT
Steam trains have long been a popular subject for John Bradley so after a personal request from a collector, John was inspired to put together a very special montage collection.
The series is designed to celebrate some of John Bradley's most popular paintings with "PUFFING BILLY" and "HEAVY METAL" first off the siding.
Other Titles in the series include "Memories of the Night Train", Golden Oldies" and "Aussie Icons".
There are only 300 fine art Giglee prints available in this Limited Edition offering and each print is numbered and personally signed by the artist. Each print also comes with a signed certificate of authenticity.
John Bradley's Original Paintings Are Currently Available At:
Articles Gallery
111 Lawrence Hargrave Drive,
Stanwell Park NSW
Telephone: (02) 4294 2491
Open 10am to 5pm Friday, Saturday, Sunday & public holidays
Kevin Hill's "TOP TEN" Australian Artists
26 Lewis Way Newington 2127
(Sydney Olympic Park)
Telephone: 02 9648 4857
Website: www.kevinhillstopten.com.au
My wife and I are thoroughly delighted with the large commissioned painting by John Bradley of our property. John traveled from the Hunter Valley to Queanbeyan to photograph and sketch the subject over a two day period. We felt confident and supported throughout the entire process.
D & S Fleming – Qeanbeyan NSW
We commissioned John Bradley to paint a nostalgic piece of family history from faded old black and white photographs. Not only was the shared creative process enjoyable, but the finished work continues to bring pleasure to the entire family.
D & A Bernard – Willowtree NSW